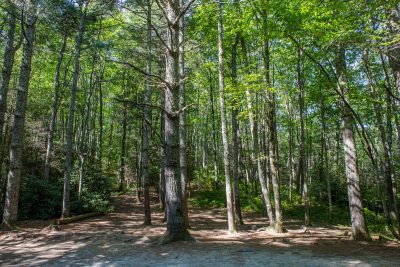 Mainspring is currently working with the Friends of Panthertown to raise $195,000 to purchase 16 acres that borders the western entrance to Panthertown Valley and Salt Rock Gap.
Once purchased, a parking area will be created to help with the visitor traffic flow, in addition to protecting the view from inside Panthertown Valley. "If a private house were built on the knoll along the property, it would be seen in the view looking back from Salt Rock, Little Green Mountain and Big Green Mountain," says Taylor. "Our goal is to instead allow visitors to be enveloped in the full outdoor experience, and truly feel like they are in the wilderness, from the minute they leave their car."
Mainspring has secured a private donor who will match any donation given towards this project. Participate in the purchase of this critical 16-acre tract of land by visiting here and applying your gift to the "Panthertown Land Purchase.