Mainspring has two properties for sale for interested conservation buyers.
Simp Gap
507.43 acres in Graham County.
$589,900
Contact: Sara Ruth Posey-Davis, 828.524.2711, ext. 313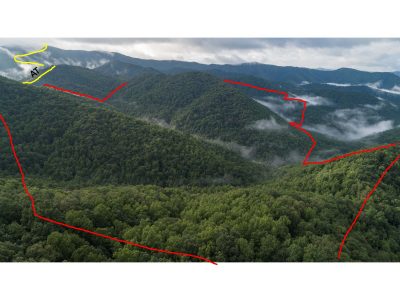 Nestled in the Cheoah Mountains, this property borders the Nantahala National Forest on 3 sides and includes 3.6 miles of forested intermittent and perennial streams.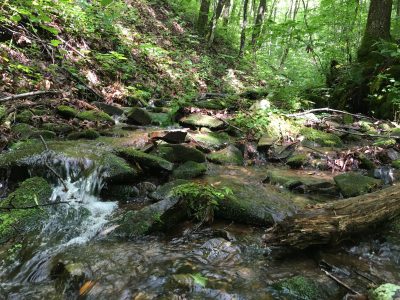 The Property includes remains of early Euro-American agricultural settlement, including historic old roads that parallel the major streams, five old home sites, and stacked-stone agricultural terrace walls on the more gentle terrain. The Property may once have been part of an historic trail route leading from the Beech Creek/Cheoah community up along Rines Creek to Locust Cove Gap and then north to the Stecoah community.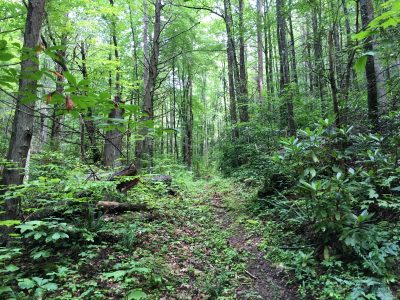 Simp Gap is subject to three conservation easements – an easement for 494 acres held by the state of North Carolina that allows for the right to lease for recreational hunting and fishing, a 50-acre easement held by Mainspring for commercial timber harvesting following a pre-approved forest management plan, and a 12-acre easement that allows for one home site that does not impact the conservation values of the property.
Historic Hopper House
7 acres in Rabun County, Georgia.
$349,000
Contact: Sara Ruth Posey-Davis, 828.524.2711, ext. 313
Renovate this pre-Civil War historic log cabin! The seven gorgeous acres includes three springs on the banks of Betty's Creek, a clean trout creek perfect for anglers. The property is within walking distance to the Hambidge Center and close to Rabun Gap Nacoochee School. The log cabin and large barn, both built circa 1840's, are conserved through The Historic Trust for Georgia Preservation with a conservation easement protecting the natural resources held by Mainspring. Through the preservation agreement, the historic four-wall cabin must be maintained; however, the home can be added onto up to 2,000 square feet.