When: June 10, 2023 @ 10:00 am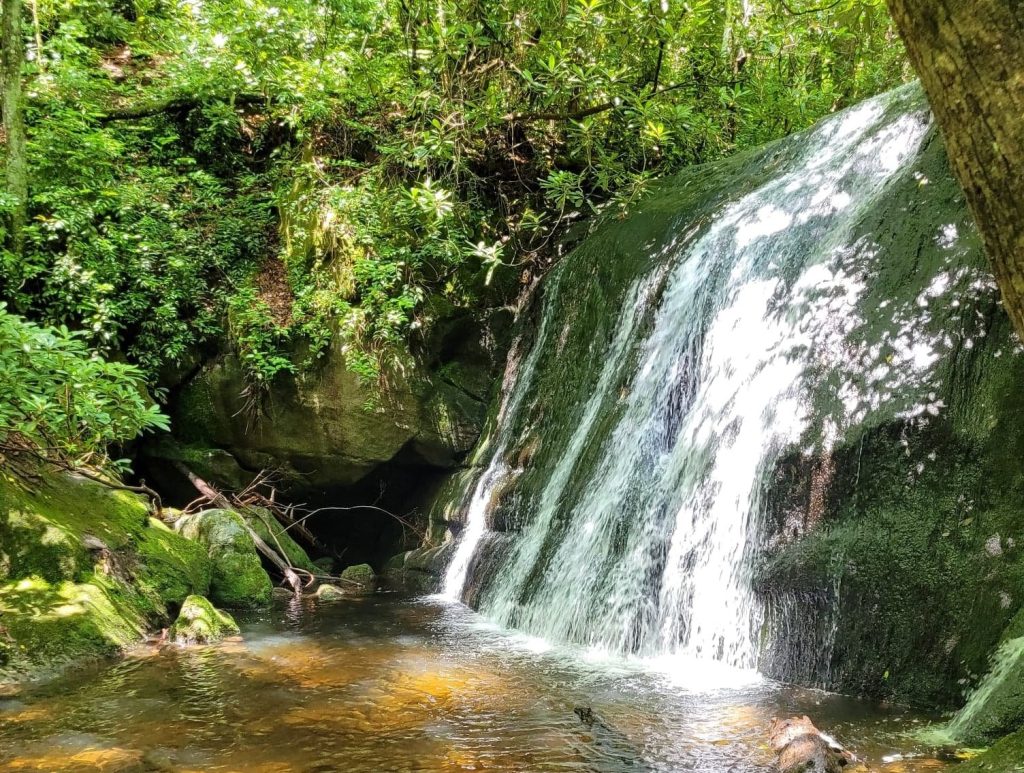 Come Meander with us to explore the lands, waters, and cultural resources that Mainspring Conservation Trust protects.
On the second Saturday of every month, Conservation Outreach Associate Skye Cahoon will lead you on a Meander through the rich floodplains, lush forests, picturesque meadows, and vibrant mountains that make this region so special. Together we will learn about and appreciate the natural world around us, taking time to notice both the tiny and the mighty creatures that call these places home.
This month, we are Meandering through Panthertown Valley from the Salt Rock Gap entrance near Cashiers. This is a moderate 3.5 mile round trip hike with 500ft of elevation gain that will take us past 3 waterfalls, to an overlook with sweeping views of the valley, and through a chilly mountain stream crossing. Be sure to bring either water shoes or an eagerness to get your feet wet and muddy! We will wander through a fascinating diversity of habitats on this 4-5 hour hike, from rocky ledges to muddy rhododendron groves. Participants are encouraged to bring a picnic lunch to enjoy while admiring the falls, and a bathing suit if they are feeling adventurous! 
We will meet at Salt Rock Gap parking lot off Rt 107 near Cashiers in the Nantahala Forest, just past the intersection of Breedlove Rd and Stone Bluff Trail, at 10am on Saturday, June 10th. Please note that the road leading up to the parking area is rough, and vehicles with high clearance are recommended. 
This event is free and open to the public, and registration is not required to attend. Please email Skye with any questions, and keep an eye on this page and our social media for any scheduling updates. We look forward to Meandering with you!
2023 Mainspring Meanders Schedule:
April 8th: Pinnacle Park, Sylva
May 13th: Queen Branch Preserve, Franklin
June 10th: Salt Rock Gap, Panthertown Valley, Cashiers
July 8th: Yellow Creek Falls, Robbinsville
August 12th: Gibson Bottoms Preserve, Franklin
September 9th: Tessentee Bottomland Preserve, Franklin
October 14th: Welch Farm, Andrews
November 11th: Piney Knob Trails, Murphy