Click on the front cover to view the Land Steward online through Issuu.
November 21, 2022 – A regionally and nationally significant river restoration project is moving forward on the Oconaluftee River, where a coalition of federal, state, tribal, nonprofit and private partners is working together to remove the Ela Dam in Whittier, North Carolina.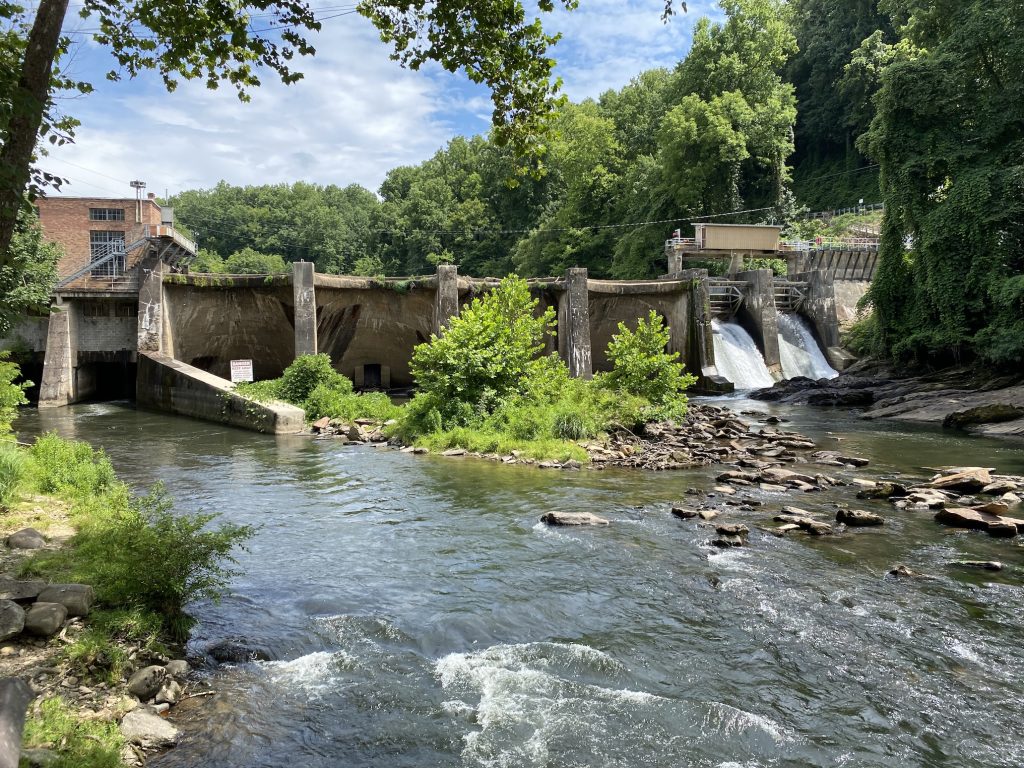 The most recent action is the signing between Mainspring Conservation Trust and Northbrook Carolina Hydro II of an Asset Purchase Option and Sale Agreement. The agreement provides Mainspring, or its assign, the option to acquire the entire impoundment structure, lands and property for nominal value, if it determines dam removal is feasible given available funding and conditioned on receipt of approvals from the Federal Energy Regulatory Commission and other reviewing agencies.
The coalition, which includes the Eastern Band of Cherokee Indians (EBCI), the North Carolina Wildlife Resources Commission (NCWRC), the US Fish and Wildlife Service, American Rivers, Mainspring, and the Southern Environmental Law Center, among others, was initially spearheaded by EBCI Secretary of Agriculture and Natural Resources Joey Owle. Owle had approached Northbrook, Ela Dam's owner, about removing the dam following the company's remediation efforts after an accidental sediment release in October 2021 that affected the downstream reach of the Oconaluftee River.
"The tribe has always had an interest in restoring connectivity to our waterbodies, and the Ela Dam has disconnected our river and aquatic relatives for nearly 100 years," said Owle as he recounted the impetus of this historic project. "When I began this position in 2017, removing Ela Dam was one of the first ideas I pitched to my staff and leadership. The accidental sediment release coincided with an unprecedented funding opportunity from the Bipartisan Infrastructure Law (BIL). That, coupled with determined parties all around ready to pursue the idea of reconnecting 188 square miles of the watershed through a social and environmental justice lens, was perfect timing. I am grateful that Chuck Ahlrichs (of Northbrook) took my call in December 2021, and with a team of exceptional partners, we were able to come together to create an opportunity from the ground up."
From that first call from EBCI, Northbrook was ready to come to the table with the partners. Nearly 100 years ago, the dam was constructed to support rural electrification but now, the social, economic, and environmental values of reestablishing a free-flowing Oconaluftee River vastly outweigh the one megawatt of output it generates. Northbrook also wanted to improve relations with organizations and agencies that work to protect and improve the nation's rivers.
"Removing a dam is the fastest way to bring a river back to life," said Erin McCombs, Southeast Conservation Director with American Rivers. "This project is one of the most exciting river restoration efforts in the U.S., with tremendous benefits including improved water quality, habitat for imperiled fish and wildlife, and cultural reconnection."
According to American Rivers, 56 dams have been removed in North Carolina to restore river health. If this project is successful, it may serve as a template for how dam owners can work cooperatively with American Rivers and other partners to decommission dams when the value of a free-flowing river outweighs a dam's power generation.
Mainspring Executive Director Jordan Smith says the EBCI-led coalition meetings have resulted in each partner bringing their organization's best to the table to find a creative path forward.
"As a land trust, we are used to owning assets," he said. "American Rivers brings their expertise in managing dam removals while the NC Wildlife Resources Commission and US Fish and Wildlife Service have supported the initiative from day one, identifying and providing funding and prioritizing this project within their offices. And without the leadership from the EBCI and Northbrook's willingness to essentially contribute the property to the effort, we absolutely could not move forward. This is truly a team effort."
Removal of the dam will open 549 river miles of the Oconaluftee River and its tributaries; streams across the entire Qualla boundary and parts of the Great Smoky Mountains National Park will be connected once again to the lower Oconaluftee and Tuckasegee Rivers. Additionally, culturally important fish species will have access to spawning areas in upstream Tribal waters after being disconnected from them for nearly a century.
Mainspring's and Northbrook's signing of the Asset Purchase Option and Sale Agreement allows the coalition to continue its work on the next phase of project planning. With funding from the North Carolina Wildlife Resources Commission, American Rivers is leading the design and engineering studies for dam removal while the coalition moves forward with planning and regulatory approval processes. Mainspring's purchase option will expire in April 2023.
Ever since Duke Energy gifted Queen Branch to Mainspring in 2004, staff have dreamed of building an accessible trail on the property for all visitors, including for those who use wheelchairs or have limited mobility. The 16-acre floodplain parcel, adjacent to Needmore Game Lands, is perfect for enjoying an afternoon in nature — featuring open meadows that extend into views of the Little Tennessee River.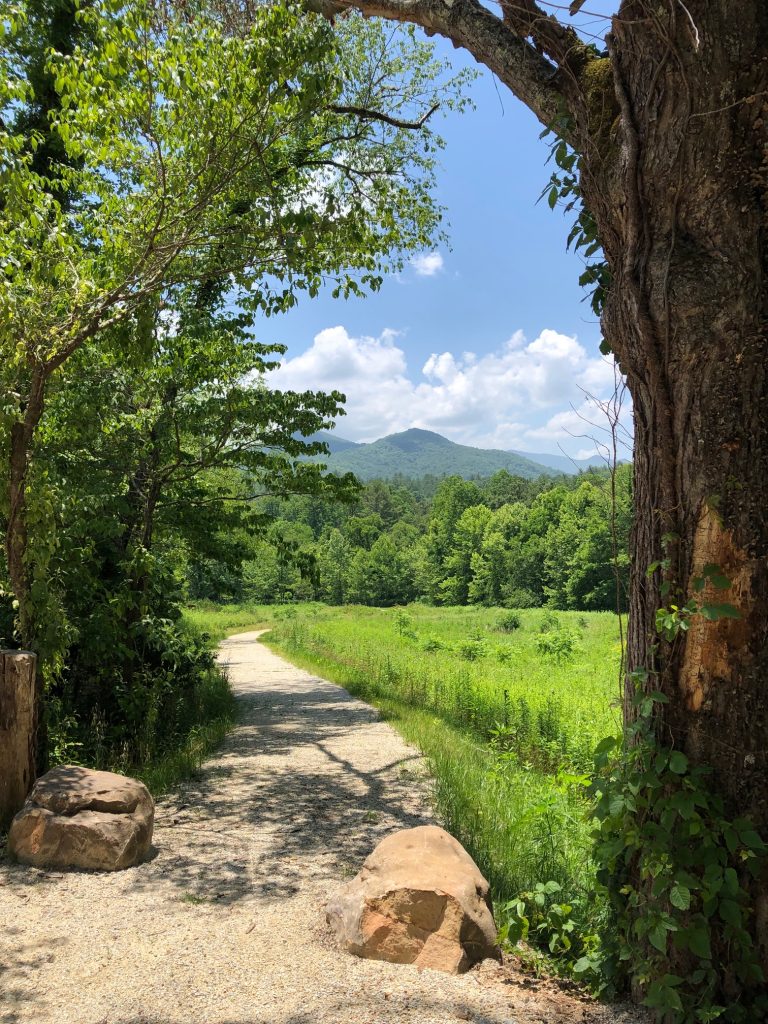 However, ADA-compliant trails are expensive to create, and grants that fully pay for this type of project are very competitive. So, for years, the dream has remained just that: a dream — until Sylvia Walbolt heard about the idea.
"I had been a contributor to Mainspring since it was Land Trust for the Little Tennessee," Walbolt says. "When my mom passed, I wanted to do something permanent in her memory. Mainspring brought [this project] to my attention, and I thought it was the perfect memorial for her. She always loved the river and would tell stories about rowing across it to get to school."
Walbolt, an attorney who lives in Tampa, Florida, gifted Mainspring the funds needed to create the 1/3-mile-long trail in memory of her mother, Sylvia Shaver Hardaway, who passed away in 2020 at age 102. Walbolt's contribution, along with a grant from the Cannon Foundation, allowed Mainspring to budget the remainder of funds needed to move forward with the $70,000 project.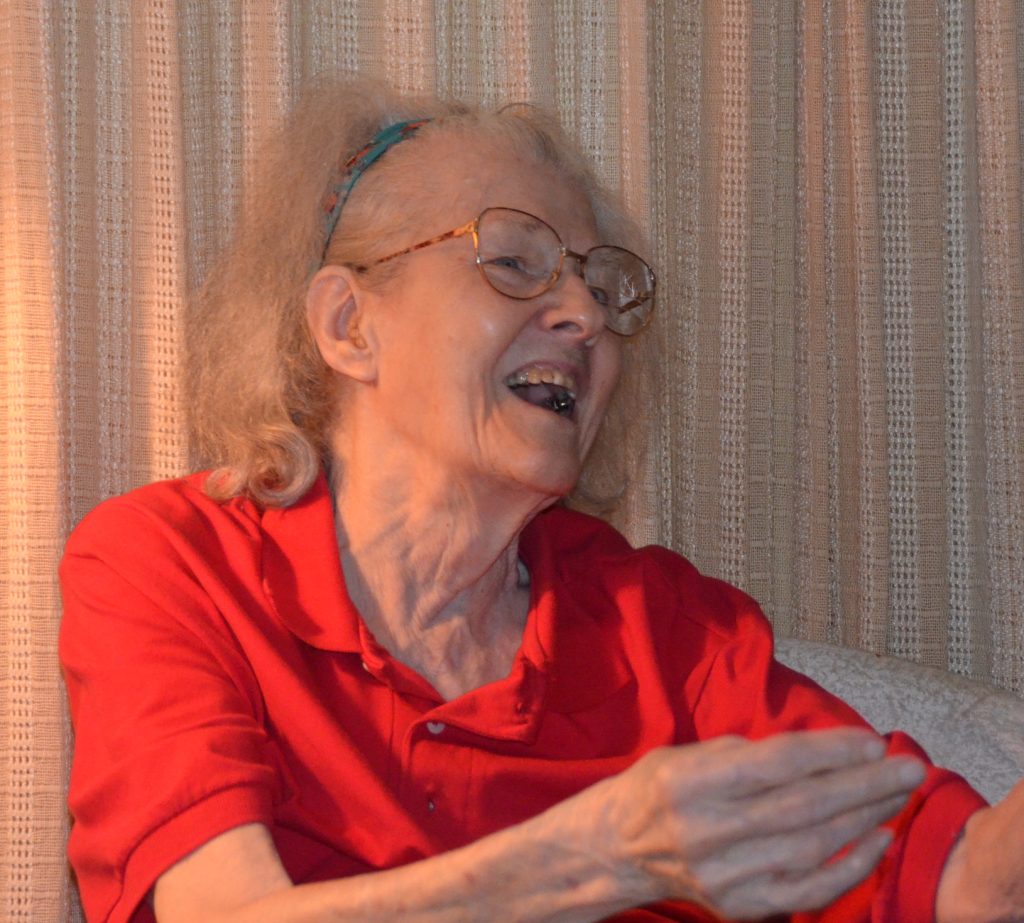 "In 2018, the late landscape architect Jack Patton designed what we're now calling the Hardaway Trail, and he developed it so that the surface, slope, width and viewing platforms would all be ADA compliant," says Ben Laseter, Mainspring deputy director. 
Patton's plans called for a trail surface made up of sand and gravel, a specific mixture called trail surface aggregate. To ensure accessibility for all, the aggregate is installed at a precise thickness — then mechanically compacted into a hard surface.
"Only a small part of the property could be easily accessed before," explains Kelder Monar, Mainspring stewardship manager. "The relatively level terrain and proximity to the river made the property a natural fit for an accessible trail, and we can also link the trail to Needmore Game Lands so people with disabilities can hunt if they prefer. Connecting people with the natural resources in our area is a core part of Mainspring's mission, and this trail gives us a chance to connect with new user groups who might otherwise not have a place to explore."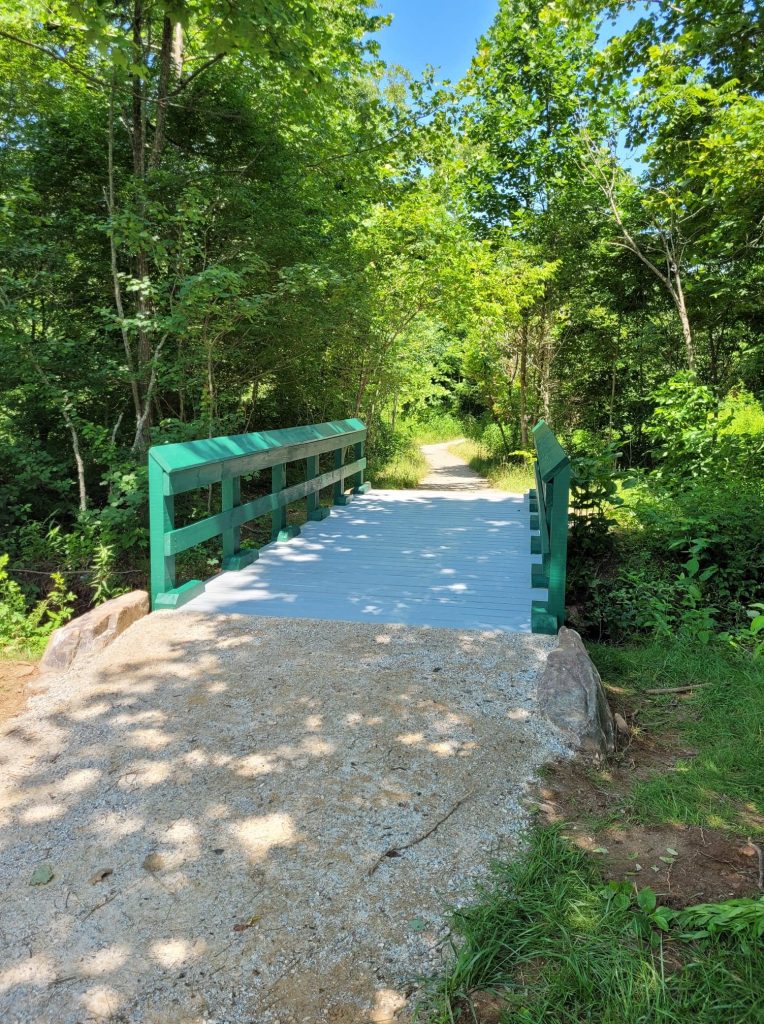 Walbolt adds: "I love the work that Mainspring does. Though I no longer own property in North Carolina, I feel strongly that this beautiful land needs to be preserved as much as possible, and that we need to have places where folks can bring their kids and be present in the wild, safely and with pleasure. It makes me so happy to have this trail named for my mother. She was a remarkable lady, so it makes sense that a remarkable trail will be available for all to use and enjoy."
Special thanks to Mainspring Emeritus Board Member Richard Clark and current Board Member Ed Haight for their expert advice and time, as well as all of the Mainspring volunteers who assisted in numerous work days.