When: March 4, 2021 @ 6:00 pm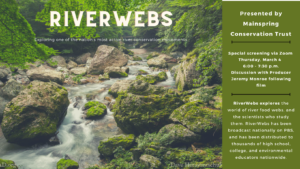 Join us for our 3rd film screening in partnership with Freshwaters Illustrated! Viewing is free, but registration is required using this link
The Freshwaters Illustrated Mission is raising public awareness about the life, study, and conservation of freshwater ecosystems through immersive visual media and stories, and providing imagery and resources to scientists, educators, and media producers.
The FI Vision is to help inspire a world that is more conscious of freshwater life and more sympathetic to the cause of freshwater conservation.
Freshwaters Illustrated is a 501(c)3 nonprofit organization founded in 2003, the UN International Year of Freshwater.
RiverWebs was supported by The National Science Foundation, The Fisheries Conservation Foundation, The US Environmental Protection Agency, The Japan-US Friendship Commission, and The US Forest Service.