From The Sylva Herald, July 13, 2015:
By Nick Breedlove, The Sylva Herald
About a mile up Bo Cove Road in Speedwell community sits a 104-acre tract, now protected from future development.
Joan Byrd and George Rector's land is filled with streams and cascades, red foxes, rabbits and hills speckled with mica, all under a canopy of trees; they want to make sure it stays that way for future generations.
The Cullowhee couple recently donated a conservation easement to the Land Trust for the Little Tennessee. Development rights for their land are now held by LTLT in perpetuity. It's not their first easement – In 2006 they donated a 40-acre neighboring tract.
The new 104-acre easement connects the Nantahala National Forest to the original 40-acre easement, creating a corridor of protected land. The newly conserved tract includes a portion of Bryson Branch.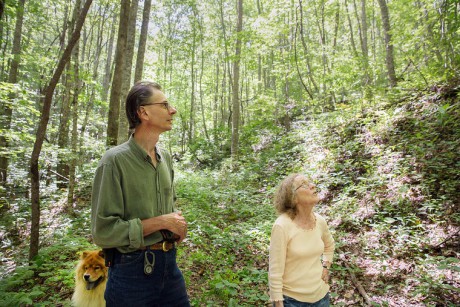 Without children, it stands as one legacy she and her husband can leave behind, Byrd said.
Donating the easement means lessening their own property values, a hit they're willing to take to ensure the land remains undeveloped.
They think of it as a savings account.
"You set something aside for the future," Rector said.
The legally binding restrictions will be passed on to future property owners and will keep the Byrd/Rector holdings in mostly agricultural uses. While the easement would allow one house of a certain square footage to be built as well as a barn and other small farm buildings such as a woodshed or poultry house, it ensures that the land will not be subdivided or used for a high-density residential or commercial development.
When Byrd came to Jackson County in 1971, she owned one acre – a parcel size that left her unbuffered from potential development around her.
"I felt so vulnerable and couldn't afford to buy land," she said.
Just before she married Rector in 1983, she bought a 20-acre tract and then purchased another 26 acres. Eventually they acquired the four parcels they have now for a total of 145 acres. Nestled in the middle is their house, a good-sized garden and a ceramics studio that was once their home before they built their current dwelling.
T.B. Bumgarner owned much of the land in Bo Cove, which was named after Bowman Bumgarner, Byrd said.
"There's nobody really of that generation living who knows the history of the land anymore," she said. "It just means a lot to us to think that this is really not going to be changed. That's a legacy to us and it really matters."
The conservation easement, despite being a donation, costs quite a bit, but Byrd and Rector say the felt the cost worthwhile to protect their piece of heaven. LTLT also helped defray the cost of conservation with a grant it obtained from the Conservation Trust of North Carolina.  "This land gives us so much of what we need – it heats our house with wood, provides water, along with the food we grow," Rector said. "There's a sense we feel our flesh and bones are derived from this land from the water and food."
Byrd retired last year from Western Carolina University after teaching ceramics for almost five decades; Rector taught ceramics at WCU for almost 20 years.
LTLT's Land Protection Manager John Culclasure was particularly pleased to work on this project.
"This project conserves more than a mile and a half of forested streams whose cool waters are important for fish and other aquatic life. The diversity of forest community types is important for wildlife, and the adjacency to the national forest ensures critters have room to roam," Culclasure said. "George and Joan have made a tremendous contribution to conservation in Jackson County."
LTLT is a regional nonprofit dedicated to conserving the land and waters in the six far-western counties in North Carolina and northern Rabun County, Ga.