The Franklin Press, February 7, 2014
By Ryan Hanchett
[email protected]
Dr. Bill McLarney has spent three decades in the Little Tennessee River watershed conducting research and monitoring aquatic species.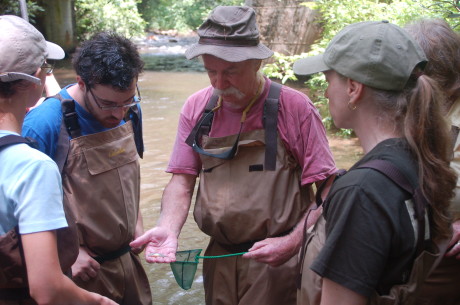 His work has proven to be a valuable resource for biologists around the globe.
McLarney was recently named as the recipient of the 2014 Fred A. Harris Fisheries Conservation Award given by the North Carolina Chapter of the American Fisheries Society.
"I am a guy who is very location oriented," McLarney said. "I prefer to find a place to live and then figure out how to make a living. I came to Franklin and saw a need for an aquatic biomonitoring program and I have been working here ever since."
The work that McLarney and his team of volunteers have done since 1988 has led to the creation of a database that encompasses 25 years of statistical information. The database is the largest of its kind in the world.
"The far-ranging impact of Bill McLarney's conservation work in the valley of the Little Tennessee is not yet fully appreciated," Land Trust of the Little Tennessee Executive Director Paul Carlson said. "The monitoring of fish communities and stream health that he has led for 25 years has inspired a new generation of conservationists
who realize that Noah's Ark exists right here in our own back yards. He is a great educator, a great conservationist, and a great fisherman. It is hard to imagine anyone more deserving of this award than Bill."
While 25 years worth of work seems like a long time to the average person, McLarney has his eye on a much larger goal.
"If you are a scientist and you are looking at a research project that covers less than 500 years you are thinking too small," McLarney said. "Every year the information builds on itself and provides greater context than the year before."
The ability to secure funding through grants, and the cooperation of local landowners, has allowed McLarney's work to continue into its 26th year. Because McLarney is employed by the Land Trust of the Little Tennessee, and not a government agency, he must ask permission before conducting studies on private land.
"Over the years I think I might have had two people tell me no," McLarney said. "The people of Macon, Swain and Rabun counties for the most part have been willing to work with us to ensure the health of the watershed."
McLarney was instrumental in securing the Alarca-Laurel property in northern Macon County as part of a conservation plan in 1993. The tract of land is home to one of the few undisturbed stretches of stream in the county as well as the area's only mature red spruce forest.
He was also a driving voice for the Needmore Tract purchase by the state of North Carolina in 2004. The tract covers 27 miles of Little Tennessee River frontage and 37 miles of tributary streams.
"Those two projects are two that I am really proud to have been a small part of," McLarney said. "We have done a number of good things over the past 25 years and conserving those two large areas was a big step." McLarney will travel to Costa Rica later this month to continue research he has been doing in the Central American nation since the 1970s. He will return to Macon County in May and begin his 26th year of the biomonitoring program.
Armed with a team of volunteers, McLarney will assess the brook trout stock via stream sampling. Along with the stock assessment, the workers will conduct Stream Visual Assessment Protocol (SVAP).
"SVAP is something that is easy to do and can cover a lot of ground in a short time," McLarney said. "Instructors teach the volunteers how to spot healthy characteristics and unhealthy characteristics as they walk along a particular stream."
Volunteers will look at vegetation along stream banks, erosion sites, possible pollution sources and areas of species interaction in order to determine the overall health of the stream.
Restoring the amount of vegetation along stream banks has become a hot topic in recent years for groups like the LTLT. As average temperatures rise, the amount of shade needed to protect critical aquatic habitat must increase.
"The slogan 'Shade Your Stream' has become a sort of catch phrase," McLarney said. "In a natural state, vegetation will grow right up to a stream bank and in some cases grow over the stream itself. The response by landowners for several years has been to cut that vegetation back in order to clear the stream, but through research we have learned that the shade over the stream is an important part of the habitat."
Brook trout are the only trout native to the mountains of North Carolina. Over his 25 years of keeping watch over the Little Tennessee watershed, McLarney has seen several significant changes in the stock as they interact with rainbow and brown trout.
"Brook trout are a very sensitive species," McLarney said. "They are sensitive to habitat and water temperature and they do not necessarily compete well with other trout species that are stocked. Keeping streams shaded and healthy is vital to retaining the native brook trout population."
McLarney's research database is open for public view and is housed at Coweeta Lab in Otto.