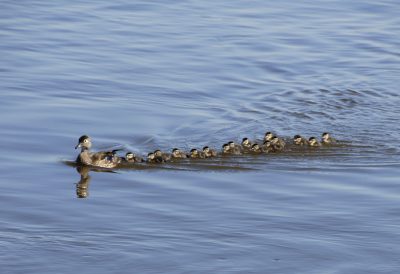 October 27, 2016
Brittney Burns – Staff Writer
Macon County's newest recreation park will be getting a new feature next week as Read2Me is set to unveil the nonprofit's second StoryWalk at the Parker Meadows Recreation Complex on Friday, Nov. 4 at 10 a.m.
As part of an ongoing project, Read2Me set out to establish two StoryWalks in Macon County this year. The first walk was unveiled in May at the Rotary Loop along the Little Tennessee Greenway. Through a partnership with Macon County and Mainspring Conversation Trust, Read2Me's second Story Walk is ready for the public and is featured on a stretch of the mile-long walking track that outlines Parker Meadows.
A StoryWalk® is a fun, educational activity that places a children's story along a popular walking route in the community. Conceived as a way to inspire parents, teachers, and caregivers to take young children out of doors for physical activity and to learn, StoryWalk helps build children's interest in reading while encouraging healthy activity for both adults and children.
"We want to invite the community to join us in celebrating our second StoryWalk," said Diane Cotton, president of Read2Me. "We will have light refreshments for the community and are excited to have Maggie Kennedy, director of the Children's Department at the Macon County Public Library leading a walk through the featured book, 'Pond Babies.'"
Research supports an interactive and experiential process of learning spoken and written language skills that begins in early infancy. It is now known that children gain significant knowledge of language, reading, and writing long before they enter school. Children learn to talk, read, and write through such social literacy experiences as adults or older children interacting with them using books and other literacy materials, including magazines, markers, and paper. Early literacy research states that:
– Language, reading and writing skills develop at the same time and are intimately linked.
– Early literacy development is a continuous developmental process that begins in the first years of life.
– Early literacy skills develop in real life settings through positive interactions with literacy materials and other people.
While Read2Me members are excited to be unveiling another StoryWalk, they are already hard at work planning to install two additional StoryWalks in the coming year.
StoryWalks are interchangeable so the more stories, the more options to move the stories around so members of the community can enjoy them. Read2Me is currently looking at suggestions for locations for the next two StoryWalks as well as continued sponsorships and partnerships to make the walks a reality for the community.
Macon County's first two StoryWalks were made possible through a sponsorship with the Macon County Public Library and the Franklin Health and Fitness Center, both recognizing the importance of early literacy and promoting healthy activities for families in the community.
Mainspring Conservation Trust also sponsored the StoryWalk and worked to develop a board that specifically educated readers about all of the native "bugliest bugs" and "pond babies" that can be found in and around Macon County. The project was funded through the sponsors and local businesses and organizations like The Franklin Press, Signs Express, Goshen Timber Frames, Russell Hawkins with Edwards Jones, and Rotary Club of Franklin Daybreak. Brett Murphy, owner of Arrowood Construction also volunteered his time and talents to donate labor and materials to have the story boards mounted and planted at Parker Meadows.
StoryWalk was created by Anne Ferguson in Montpelier, VT., when she worked for the Vermont Department of Health. Ferguson was thinking about ways to prevent or lessen the impact of chronic disease on adults and children by increasing physical activity. She also wanted to find something that was fun for families to do together in natural settings.
Read2Me will be hosting a celebration to unveil the new Story Walk at Parker Meadows beginning at 10 on Friday, Nov. 4. For more details, visit Read2Me on Facebook.