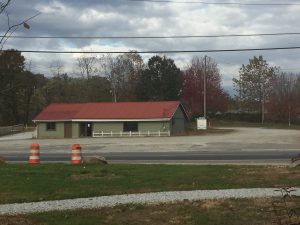 November 13, 2017 – Ongoing efforts to revitalize the Franklin River District gained momentum this week when Mainspring Conservation Trust acquired another .67 acres in the heart of the area.
The regional land trust purchased the former Simpson Gas and Oil Company at 544 East Main Street, directly across from Mainspring's Franklin office. Mainspring has entered into a brownfields agreement with the North Carolina Division of Environmental Quality (NCDEQ) to redevelop the former petroleum distribution facility into green space that will complement the historic  Nikwasi Mound.
A brownfield site is defined as "real property, the expansion, redevelopment, or reuse of which may be complicated by the presence or potential presence of a hazardous substance, pollutant, or contaminant." Simpson Gas and Oil sold kerosene, fuel, oil, gasoline and diesel from 1951 to the mid-2000s.
"This acquisition has been in the works for more than two years," says Ben Laseter, Mainspring Associate Director. "After we went through the extensive learning process of working with state and federal agencies on the brownfield property next door to our office, we felt like we could use that knowledge with other contaminated properties that affect significant cultural sites or properties with high conservation values. This property made perfect sense; it's close to the Little Tennessee River, near Nikwasi Mound, and can help improve Franklin's aesthetic at the eastern entrance to downtown."
Laseter says projects like this could not be successful without the critical support of hundreds of individual donors to Mainspring, state and federal environmental agencies, and local entities, including the Town of Franklin, Macon County, and the Eastern Band of Cherokee Indians. "When stakeholders, funders, and governments are willing to help Mainspring bring dollars into the economy to help us purchase, clean up and restore important lands, we have the ability to think outside the box, and that makes a huge impact in our region."
Mainspring is currently pursuing grant funding for cleanup of the site, which it hopes to complete in 2019.