LTLT's founding director and current Senior Advisor Paul Carlson was honored with the 2015 Roosevelt-Ashe Outstanding Conservationist Award at Wild South's annual Green Gala on March 20 in Asheville, North Carolina.
See the press release from Wild South below for more details and the complete list of award recipients.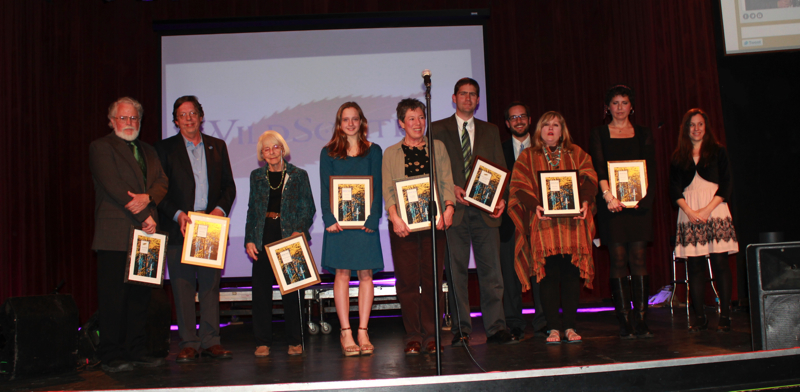 March 23, 2015
Contact:
Benjamin Colvin
Development Director
Wild South
828-258-2667
[email protected]
Wild South announced the winners of the 2015 Roosevelt-Ashe Conservation Awards Friday night at the 7th Annual Green Gala at The Orange Peel in Asheville. The awards recognize outstanding conservation achievements by journalists, businesses, conservationists, educators and youth across the South. For the first time this year, Wild South also recognized conservation leaders for their lifetime achievements. This year's award-winners range in age from 14 to 95.
Ben Colvin, Director of Development at Wild South, says, "We're inspired by these conservation heroes who have given so much of themselves to help save wild places and wild things in the South. Their stories remind us that the greatest conservation achievements are rooted in personal passion."
This year's award winners were selected from highly impressive nominees in five categories: The 2015 Roosevelt-Ashe Conservation Award winners are:
Outstanding Journalist: Karen Chavez, Asheville NC
Chavez is the outdoor editor of the Asheville-Citizen Times, creator of the popular "Girls Gone Outdoors" blog, and author of the guidebook Best Hikes with Dogs in North Carolina.
Outstanding Business: 212 Market Street Restaurant, Chattanooga, TN
Owned by sisters Sally and Susan Moses and their mother Maggie Moses, 212 Market Street incorporates local and organic food, recycling, composting, biodegradable materials, energy efficiency, and renewable fuels.
Outstanding Conservationist: Paul Carlson, Franklin, NC
Carlson's conservation legacy with the Land Trust for the Little Tennessee includes protection of the 4,400-acre Needmore Gamelands along 27 miles of the Little Tennessee River.
Outstanding Educator: Nancy Muse, Central School, Florence AL
Muse is an art teacher who fosters students' curiosity about the natural world. She is also a leader in Shoals Environmental Alliance, Shoals Earth Month, and tar sands mining issues in Alabama.
Outstanding Youth: Carly Stines, Wake County, NC
High school freshman Carly Stines, with Girl Scout Troop 374, created kits for use at the Wake County Park to educate students about some under-appreciated local wildlife — snakes.
Lifetime Achievement: Bishop Herron Johnson, Birmingham, AL
Bishop Johnson, of Faith Apostolic Church, is known as a modern-day Noah for his crusade to save an endangered fish, the Watercress Darter, and conserve its habitat on church property.
Lifetime Achievement: Dr. Liane Russell, Oak Ridge, TN
A geneticist who discovered the significance of the Y chromosome, Dr. Russell is also a passionate wilderness advocate instrumental in the protection of rivers, trails, and forests in Tennessee.
Wild South is the leading organization focused on conservation of public lands in the South. Wild South protects amazing wild places by engaging people — in advocacy, volunteer work, education, and the joy of connecting with our great outdoors!
_______________________________________________________
More on this story:
See biographies of award winners and nominees
Contact Wild South for further information and to arrange interviews