From: Smoky Mountain News, February 25, 2015
Article By: Becky Johnson
View the article on the Smoky Mountain News website.
History will no doubt remember Paul Carlson as one of the great visionaries of our time in Western North Carolina. As the founder and long time director of the Land Trust for the Little Tennessee retires from his leadership role, we pause to reflect on the contributions he's made.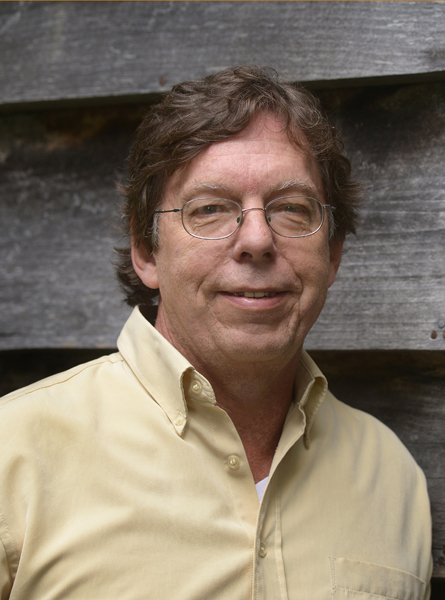 Few men can claim a legacy in the Southern Appalachians as deep or long-lasting as Paul Carlson's.
When Carlson set the wheels in motion to create the Land Trust for the Little Tennessee in the late 1990s, there wasn't a single conservation easement along the banks of the Little Tennessee River in Macon County. Today, 34 miles of river frontage are permanently protected, and thousands of acres of farms and forests have been conserved, thanks to his vision.
Carlson was at the forefront of a revolution in conservation circles. He introduced the region to a new paradigm, one where humans could co-exist alongside conservation, where the landscape supported cultural heritage and vice versa.
"A lot of land trusts don't mess with the cultural side. But from day one, our mission was to conserve the waters, forests, farms and heritage of the Little Tennessee watershed," Carlson said. "What's fun is that conservation story has fallen into place."
He molded public perception like he did the landscape — incrementally yet steadily, subtly not brazenly.
Eventually, a movement was born. It was so measured, many didn't realize a movement was afoot, one that would forever alter how people viewed the landscape, both emotionally and economically.
From the outside, it may all seem like a big coincidence.
LTLT was saving a piece of land here, a piece of land there — picking up the scattered chips of an increasingly fragmented landscape, merely answering the door when opportunity knocked.
But eventually, the tracts were no longer lone life rafts, but a cohesive flotilla.
"It is very satisfying to see a vision coming together with some consistency," Carlson said. "This is one place you can make a stand. There was a defined constituency for the river. It is place-based conservation."
Carlson is quick to deflect any accolades, and instead credits the deep bench of supporters who lent their voice to the cause over the years, and ultimately the landowners who have signed on to the movement.
But it was Carlson's vision that set it all in motion.
"He can think beyond. He looks at things and thinks 'this is what can be done,'" said Sharon Taylor, who's worked with Carlson at LTLT since its creation. "I am in awe of the vision he had for Western North Carolina and how he was able to implement that vision."
While Carlson was an outsider when he came to Macon County, he brought with him a missing ingredient, something that didn't come naturally to people in Southern Appalachia.
"We accepted that things were the way they were and couldn't be changed," Taylor said. "Paul wasn't a fatalist. Paul Carlson had a vision."
Hand in hand
Before he came to Macon County, Carlson spent nearly 15 years in Central and South America — namely Colombia, Ecuador and Peru — convincing indigenous people to reclaim their landscape. He held various titles, including agricultural economist, forest advisor and agroforestry consultant.
He showed native people that restoration of their damaged landscape was not merely an investment in the earth but their own livelihoods, and how to use their landscape and forests sustainably so they would last.
The same principles were transported with him to the Southern Appalachians. Historical human use of the land — chiefly fishing, hunting, logging and farming — were vital to LTLT's conservation vision.
"It is important to see people as part of the landscape," Taylor said. "I think we have demonstrated that conservation can go hand in hand with a good strong economy. Conservation doesn't mean that people are shut out or that you can't have the sustainable timber harvest or the farming."
Seven working farms have put their land into a conservation easement with LTLT. It's "way too few" for Carlson.
For him, saving a farm is the gold standard. It's protecting the cultural heritage of the landscape at the same time as water quality and habitat.
The same goes for working forests, where carefully crafted sustainable forestry keeps the land in production while protecting it.
A tall order
The Land Trust for the Little Tennessee will outlive Carlson and all of its founders. Generations from now, it will still be on the ground, safeguarding the legacy set in motion in the 1990s.
LTLT has played a role in the permanent protection of 24,000 acres since its creation, a list that grows every year. Its chief tool is the conservation easement, a clunky-sounding piece of legalese.
A conservation easement is a voluntary step by property owners who want to ensure their land is protected after they're gone. They can still leave it to heirs or even sell it, but the conservation easement follows the property forever, no matter whose hands it passes to.
It's a profound idea — that the conservation wishes of a landowner today will reach across the eons, forever defending the plot of ground they once held sacred during their lifetime.
Meanwhile, they can keep farming, timbering, hunting and fishing on it, and even set aside a homesite or two for the future. But it can never be divided up and developed wholesale.
But LTLT's job isn't done once a conservation easement is in place.
"The problem with easements is you have to take care of them and defend them … forever," Carlson said.
SEE ALSO: Behind the wheel with Paul Carlson: a two-hour tour of the Little Tennessee
With around 60 conservation easements and counting, LTLT has setup a legal defense fund, realizing that decades, even centuries from now, someone may try to develop land that's supposed to be protected. It will be up to LTLT to go to court and uphold the conservation easement.
While LTLT has defined conservation priorities, it has to stay flexible.
"We enter the year really not knowing what the land deals will be. Mostly these things pop up. It is the calls that come unexpectedly out of nowhere," Carlson said. "We are opportunists."
It is easy to get side-tracked, though.
"You have to be careful of which ones not to follow," Carlson said.
The boom and bust
During the development boom of the 2000s, the historic landscape was disappearing so quickly LTLT couldn't keep up. For every acre they stitched back together, five more came undone.
Sold signs multiplied overnight as one large tract after another was snatched up by out-of-town developers with grand plans for gated subdivisions. It was both dizzying and depressing to conservationists.
"There was a tension to it, a certain frenzy to it. We tried to keep disciplined," Carlson said.
The real estate boom was a double-edged sword.
On one hand, LTLT couldn't compete with what the top dollar developers were paying. Even the most conservation-minded landowners found it tough to stick to their principles with that kind of cash on the table.
But the recession also increased the will for conservation. Seeing the landscape fall like dominoes into the hands of developers, it stirred the public to grasp LTLT's vision.
Then the bust came, and LTLT was suddenly swimming in prospective conservation deals. Projects were called off and the washed-up developers walked. The land could now be snatched up dirt cheap, but by now there was another catch.
Since the recession, the go-to state and federal trust funds that reliably funded land conservation in the past had been whittled away and in some cases completely axed.
"It is just disappearing," Carlson said.
LTLT historically counted on grants to fund the hard costs of restoration and conservation projects and put private fundraising toward salaries and operations.
Now, private fundraising has to go further.
Carlson recognized LTLT could stretch its dollars by taking out loans to buy land — taking on the far smaller expense of mortgage payments instead of coming up with the entire lump sum for the cost of the land.
"The game has shifted very much. We have learned how to buy with our own dollars, and try to buy smart," Carlson said. "It is part of being entrepreneurial."
While LTLT owns a few signature tracts outright, its aim wasn't to amass conserved land under its own name permanently.
The plan was to flip it — to buy tracts when opportunity knocked, set it up under a conservation easement, and then turn it back out on the market.
"Part of the game is if something is available, we go ahead and buy it and then sell with restrictions," Carlson said. "Sometimes we have lost a little money, sometimes we have made a little money."
Done right, LTLT can recoup most of its outlay for the land and plow it back in to the next land buy — like its own internal revolving loan fund.
"I look at it as venture capital. We want to invest in things that promote our mission," Carlson said.
But there's yet another a catch: LTLT can't get overextended. At one time, LTLT owned 1,300 acres with a total of $750,000 in outstanding loans.
That's mostly been divested now. LTLT has only one small tract at the moment that it's actively marketing.
It's no doubt LTLT takes land off the table for developers. But rather than raise the ire of development interests, LTLT has been surprisingly well received.
"I think LTLT's presence has not negatively impacted the real estate market in Macon County," Carlson said.
If anything, protecting the views and landscape has been good for the real estate economy.
"Our work has led to a huge appreciation in the value of river frontage," Carlson said.
Most of the tracts LTLT takes out of commission are low-lying river bottomland anyway.
"They are often sites that are ill-advisable for development anyway," Carlson said. "Preserving the landscape is not stopping development. It is guiding where the development occurs."
Carrying on the vision
While Carlson has been the public leader of LTLT, the architect behind many of the land buys and conservation easements is long-time staffer Sharon Taylor.
"I love putting together land deals. I love the complexity of them, and I love working with the people," Taylor said.
Taylor and Carlson have held symbiotic roles at LTLT over the years.
"She was able to focus on land while I was shepherding a growing organization," Carlson said.
Carlson recognized that Taylor has something he would never have. She's a mountain girl from Macon County, and that speaks volumes.
"This legacy work is based on trust, relationship building and integrity," Carlson said. "People trust Sharon."
As LTLT grew, Taylor's role did too. She increasingly carried out day-to-day operations in the office, freeing Carlson to stay focused on the long-range vision.
"I am more of a get-the-work-done type of person. Paul is more of a big picture thinker," Taylor said. "His strength really was thinking forward — being able to identify the next opportunity in conservation, and being able to figure out who the partners would be to bring an idea to fruition."
It was a natural progression for Taylor to step into the role of executive director, a role she officially assumed in January.
Taylor is confident she can propel the vision that's been set in motion. Her biggest challenge, however, will be expanding LTLT's presence in the other five counties it serves: Jackson, Swain, Clay, Cherokee and Graham.
"My biggest challenge is truly to make us a regional organization. We are very Macon-centric, but we cover a much broader area," Taylor said. "I want us to be much more involved in the communities around us. I feel like we don't have the boots on the ground in some of the other areas that I would like to see. How do we serve the people in the other communities as well as we do the people in Macon County?"
While Carlson has been the driving force of LTLT, he was smart enough — and humble enough — to create an organization that would outlast him.
"He built a viable organization that would carry on without him," said Bill McLarney, who works with LTLT's watershed. "It is to his credit for assembling all those people and figuring out what their strengths were."
While Carlson's legacy will live on, his own life took a back seat as he poured his time and energy into building LTLT.
"There was a lot of cost to my family," Carlson admitted.
Instead of doing his own yard work on weekends, he would volunteer for LTLT, leading volunteer workdays, and sometimes just working solo to clean up and restore tracts they'd acquired.
Planting saplings and shrubs to restore a denuded river bank or rooting up invasive thorn bushes  — even the workday where volunteers hauled off 130 scrap tires — were therapeutic to Carlson.
"I found that recreational," Carlson said.
Even his leisure hiking time was spent scoping prospective properties for conservation or stewardship projects.
A forester at heart, Carlson found himself increasingly stuck in the office as LTLT grew. In fact, the more it grew, the more Carlson was saddled with general operations, and the less he was involved in the field work he loved.
"I don't think he ever got as much pleasure working with big budgets and stroking large donors as he did going out into the woods and doing what he studied for," McLarney said. "But when you set a goal, you aren't going to get to that goal by just doing the things you like."
Still, devoting himself to a mission that transcended his own duration on the planet was a sacrifice.
"I don't think that word is at all ill-placed," McLarney said, in reference to Carlson's sacrifices.
Technically Carlson, who's 61, isn't retiring. He's only stepping down as executive director but will stay on with LTLT, focusing on the land stewardship side, specifically restoration and sustainable forestry.
Full circle
Carlson grew up in a small town in Illinois as the son of a Lutheran minister.
He got his bachelor's degree in economics, an unusual field perhaps for a jeans-and-flannel-shirt guy. But to Carlson, economics explained human behavior and the forces that motivated it. Economics is the study of incentives, and while money is a strong one, it's not the only one.
"I think most people's relationship to land isn't driven by money as much as other values," Carlson said.
Carlson went on to get a master's in forestry, but his economics background would later help him articulate a new model of conservation, one that accommodated human interaction with the land.
His path to Macon County was circuitous, and owed as much to happenstance as anything else. When Carlson was living in Ecuador in the late 1970s teaching sustainable forestry to indigenous people, he read an article about a like-minded American ecologist working in Costa Rica, a man engaged in the same work as Carlson — but with rivers instead of forests.
The man in the article happened to be Bill McLarney, whose real home was Macon County. When he wasn't in Costa Rica, McLarney could be found studying the aquatic biodiversity of the Little Tennessee River, a project he's been carrying out for more than a quarter century now.
Carlson wrote him a letter — "it was a more sophisticated time," Carlson quipped — and the two began corresponding regularly.
"Paul was involved in what at the time was called social forestry, which was the idea that people in Third World countries could manage forest resources in a way that would be environmentally sound and also profitable for them," McLarney said. "We had a lot in common in trying to figure out where the social dimension fit in conservation."
At the time, conservationism was perceived as elitist, a luxury for the well-off. Real people couldn't afford to lock up their landscape.
But Carlson and McLarney were pioneers of a new movement, one where people could sustainably co-exist alongside a conserved landscape.
"Any solution has to take that into account or it is a temporary solution," McLarney said.
Carlson eventually visited McLarney in Costa Rica, and next in Macon County. It would be another eight years before Carlson decided to move to Macon County himself.
He began working as a private forester, primarily working with landowners to develop sustainable logging plans for their property. He came to witness the deep reverence local people had for their land and the intrinsic desire to protect it, as long as it didn't mean giving up the land.
In 1995, Carlson pulled together a diverse steering group that began meeting regularly over lunch to talk about the need for a local land trust. It included the editor of the Franklin Press, Barbara McCrae; the eastern director of the National Rifle Association, Brian Hyder;  local realtor Rich Bankston; and the head of the county mapping department, Terry Breedlove.
"It was an ecumenical group. It was not a bunch of tree huggers," Carlson said. "It was people who weren't necessarily environmentalists, but were concerned about rural values, sensible development and protecting the assets of the county — the clean water, the farmland and the river."
McLarney was a critical voice at the table in the first LTLT steering committee.
"I think Paul saw something that would be a bigger player on the social landscape. The people we started out with were ready for this vision," McLarney said. "What was harder was to sell this vision to the general public. And that was, quite frankly, just a relentless task of education."
Carlson insisted he isn't a hero. He chalks up the legacy he's leaving to luck of being in the right place at the right time.
But in Carlson's case, he created the right time. He created the conditions that would allow LTLT to thrive.
"Paul saw there was a hole in the matrix of organizations in the landscape he wanted to be in," McLarney said.
Carlson, known for his deadpan delivery of subtle sarcasm, said he didn't set out to do great things.
"Basically, I was trying to figure out how to make a living around here," Carlson said.
Building a base
LTLT's mission is more than conservation. Education and stewardship are paramount to the puzzle.
When LTLT started, its goal was to do something visible and tangible along the river, something that was easy to get behind and clear to see: stream bank restoration.
"The conservation work up and down this river was prefaced by restoration work," Carlson said.
Stewardship is "embedded in the DNA" of LTLT, Carlson said.
Education is the other piece, something McLarney has added to substantially after bringing his own Little Tennessee Watershed Association into the fold of LTLT.
The biomonitoring of McLarney over 25 years was followed vicariously by the public. Hearing that their river had more species than any other river in America was bragging points — bragging points they didn't particularly want to foul up.
School children are routinely at McLarney's side to collect, count and study the aquatic critters that are the source of the Little Tennessee's fame.
"The cumulative impact of that over a generation leads to a large constituency for the river," Carlson said.
It's easy to quantify LTLT's contribution over the past decade and a half.
"Just draw a map and look at all the land that has been protected," McLarney said.
In the scheme of the planet, they're just postage stamps. But in coming centuries, humans are bound to edge out more and more of the natural landscape, and those postage stamps will matter an awful lot.
"I don't think there is a big hope to have a viable large-scale ecosystem in the future," McLarney said. "Worldwide, the more places that are fortunate enough to have something like the LTLT in place, the more places will be able to serve as a mosaic that binds everything together, from the Grand Canyon to some 2-acre wetland."
But the intangible impact is perhaps even more profound: a cultural shift.
"Eventually, the things that the Land Trust for the Little Tennessee has accomplished will be taken for granted," McLarney said. "I hope people will now and again look back and say, 'Wow, we really owe something to these people.'"