Written by Ryan Hanchett of The Franklin Press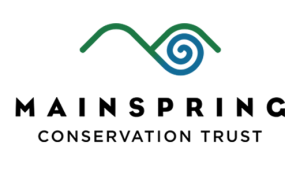 William Shakespeare famously penned the line, "What's in a name? That which we call a rose by any other name would smell as sweet."
Those words, spoken by Juliet Capulet in "Romeo and Juliet," certainly apply to a local nonprofit organization that completed the process of an identity change this week.
The Land Trust for the Little Tennessee is now officially Mainspring Conservation Trust.
Whether the new name suits the tongue the same way as the old will be seen in coming years, but as executive director Sharon Taylor noted during the name unveiling ceremony on Saturday, the name change has been a lengthy and difficult process, and the new name is one that the organization feels can carry it into the future.
While the future of Mainspring is exciting to think about, it is important to give a nod to all of the people who helped build the foundation for success. Former executive director Paul Carlson and several of the original board members were in attendance to give their blessings to the new name.
Forming a successful non-profit is no easy task, and it took blood, sweat and tears to get the land trust off the ground. That effort will always be part of the organization, no matter what name hangs above the door.
The history of the LTLT is a menagerie of accomplishments as the group has strived to protect not only the Little Tennessee River and its tributaries but also waterways connected to the Tuckasegee and Hiwassee rivers as well. For 19 years the staff at LTLT has worked to develop relationships with landowners and to keep a watchful eye on Western North Carolina's water.
From protecting the 4,600-acre Needmore Tract, which now serves as a North Carolina state game land, to preserving the Rickman Store and other historic buildings in Cowee's West Mill historic district, the efforts of the trust have affected countless Macon County residents.
Even if the organization has not directly touched their life, Maconians can all agree that one of the most valuable assets that Western North Carolina possesses is the natural beauty that envelops the region.
The staff at Mainspring Conservation Trust will continue to be good stewards of the land, and a name change is not going to change that mission.
Taylor noted that Mainspring will continue its educational efforts, which reach approximately 3,000 students each year. Biomonitoring and citizen science programs will also continue and potentially expand. The organization will continue to stretch its wings in the seven westernmost counties dealing with landowners who wish to preserve their land for future generations.
The Land Trust for the Little Tennessee may no longer exist in an official capacity, but the legacy of the LTLT will run through the veins of Mainspring Conservation Trust forever. The organization is a prominent rose in Western North Carolina and it smells as sweet as ever.