Sara Messer and Michelle Ward are typical 14 year old girls. Eighth graders at Macon Middle School in Franklin, they're busy with school, homework, friends, and…they'll admit it…their mobile devices.
"I love the outdoors but really, I'm just so tired by the end of school that all I want to do is hang out on the couch," Sara admits.
But ask them about their recent experience participating in LTLT's Kids in the Creek program and the two light up. "It was SO cool!"
Not a bad assessment from teenagers.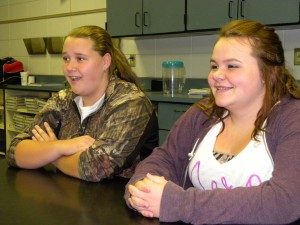 LTLT's Citizen Science Program Manager, Jason Meador, says Kids in the Creek is designed to inspire a new generation of land and water stewards. Students get hands-on education by throwing on waders, getting in the water and working directly with equipment scientists use to test and monitor the cleanliness and wildlife that live there.
Sara and Michelle agree that Kids in the Creek made a difference in how much they learned.  "Some kids can't just be in class, only hearing lecture after lecture," Sara says. "This gave us a second chance to learn. Even the guys who are always goofing off were listening and joining in – I mean, the bus ride home was so loud because we couldn't stop talking about what we did. It was the most excited I've ever seen us after a field trip."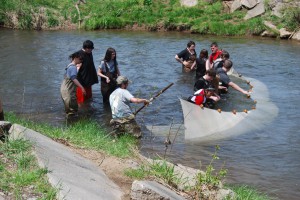 Kids in the Creek is expected to reach more than 530 students and is currently conducted in Macon and Clay Counties, with goals to expand the program throughout the region. Private support is critical to the program's success and future. "We absolutely could not organize and coordinate Kids in the Creek without LTLT donors," Meador says. "Most of these kids will stay in this area after high school. Our hope is, through projects like this, they gain an understanding to take care of what they have, so fewer regulations are needed and clean water remains in the area for many more years."
For Michelle, who will start Macon Early College in the fall with dreams of becoming a nurse, Kids in the Creek opened her eyes to a world bigger than her own. "I used to look at streams and only see the water and rocks. But now I realize how many living things are actually in there and how important it is to keep the water clean so they can live how they're supposed to."