Mainspring could not accomplish all that it does without volunteers. Water, land, office – no matter your interest, there is a place for you! Read more and decide where you want to plug in.
In and by the water:
Biomonitoring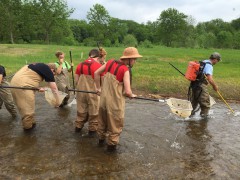 Help Dr. Bill Mclarney assess stream health by sampling fish. Opportunities are available for groups as small as two and as large as 10 during this fun and educational half-day event.
When: Sampling occurs any day Tuesday-Saturday from mid-May through mid-August
Where: Somewhere in the Little Tennessee Watershed
Needed: All equipment is provided and no experience is necessary
Ages: Volunteers should be at least 12 years old or older
Contact: Jason Meador at jmeador@mainspringconserves.org
Stream Restoration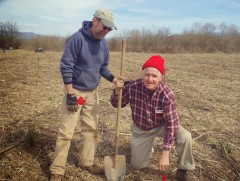 A healthy stream relies on good shade, and you can help! Mainspring plants tree seedlings and live stakes alongside streams in order to keep the aquatic habitat cool and happy.
When: This work normally occurs during the dormant season; late fall through early spring
Where: Throughout Mainspring's service area, depending on the need
Needed: Most equipment is provided; you may bring your own shovels and gloves
Ages: Most ages are welcome; group workdays are typical
Contact: Jason Meador at jmeador@mainspringconserves.org
On Land:
Bird Monitoring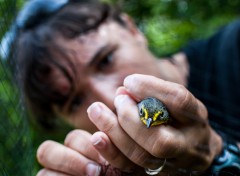 Led by Southern Appalachian Raptor Research (SARR), this program samples breeding birds at two sites along the Little Tennessee River.
When: Throughout the summer, usually beginning in May
Where: Mainspring's Tessentee Bottomland Preserve and the Eastern Band of Cherokee Indians' Cowee Mound property.
Needed: All equipment is provided; you'll want to bring water and a camera
Ages: Interested adults and curious children of all ages are welcome
Contact: Mark Hopey at bigbaldbanding@gmail.com or 828.736.1217. For a full sampling schedule, visit the SARR website
Property Management and Beautification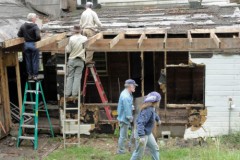 Calling all carpenters and dirt diggers! Work ranges from building and maintaining trails and tearing down collapsed buildings to picking up trash, planting trees, or controlling invasive exotic plants.
When: Throughout the year, depending on the weather, often on Saturdays
Where: On Mainspring properties in Macon and Cherokee Counties, as well as private lands under conservation easements.
Needed: Bringing your own equipment is helpful but Mainspring has some to borrow
Ages: Volunteers should be 12 years old or older. Groups are welcome!
Contact: Dennis Desmond at ddesmond@mainspringconserves.org. Dennis maintains a volunteer database so you can get information about all upcoming workdays and choose what fits in your schedule.
At the Office:
Outreach and Office Assistance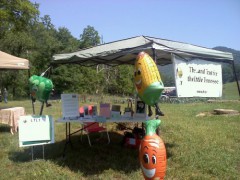 Office work, festival representation, helping plan events: as a nonprofit, there is more work to be done than what the staff can accomplish alone.
When: Throughout the year, depending on the task
Where: In our Franklin office and at local events throughout our region. Some correspondence-type activities can be done from your home.
Needed: Volunteers to address envelopes, write thank-you notes, represent Mainspring at booths during festivals, and plan activities
Ages: Willing adults of all ages
Contact: Sharon Burdette at sburdette@mainspringconserves.org