When: June 9, 2023 @ 9:00 am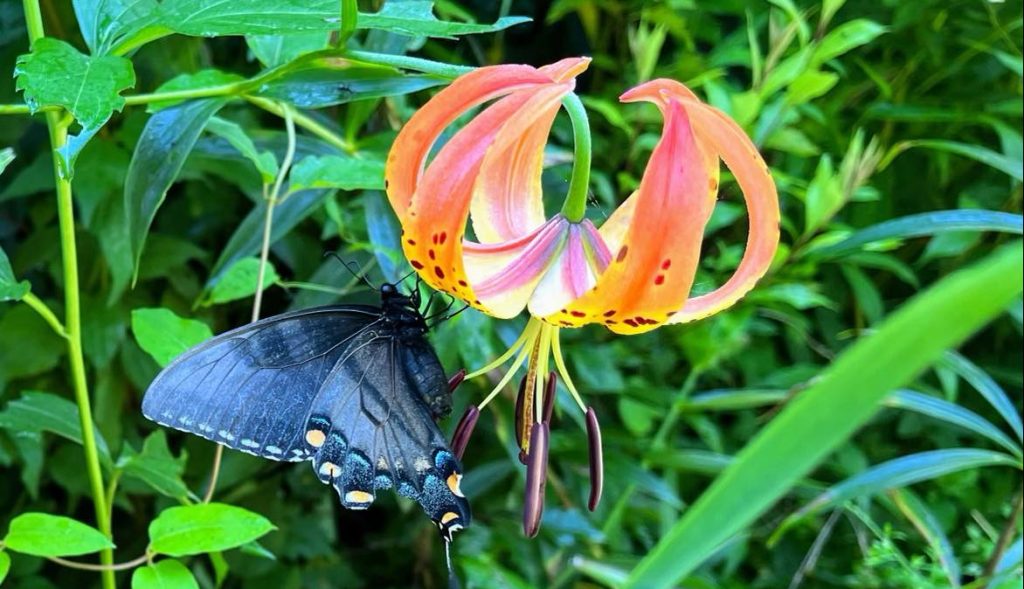 Help us relocate a community of stunning native wildflowers
Beloved by butterflies, hummingbirds, and humans alike, the Turk's Cap Lily is a striking plant. It can stand 6-8 feet tall and produces 10-25+ elegant orange flowers per stalk. A thriving population of this plant here in Macon County is impacted by one of Mainspring's ongoing stream restoration projects. Though this project will improve water quality, increase habitat availability, and strengthen landscape resilience, the required streambank modifications  threatens these lilies' survival.
Luckily, Turk's Cap Lily bulbs are easily transplanted with a little bit of digging and elbow grease. During this work day, we will dig up as many Turk's Cap Lily bulbs as we can find. Some will be transplanted in a different location, while others will be cleaned, stored, and re-planted along the stream after restoration work is complete. Volunteers are welcome to take home a couple bulbs to plant on their own property, and are invited to enjoy this beautiful stream-side spot during a bring-your-own-lunch picnic after the workday.
We will meet off Highway 64 in Franklin just south of Winding Stair Gap at 9:00am on Friday, June 9th. You will receive exact location details upon registration. This workday is scheduled for 9:00am-12:00pm, with an optional picnic afterwards. Tools will be provided, but please bring water, sun protection, and work gloves if you have them. Extra work gloves will be available for those who do not have their own pair.
Email Skye with any questions, and register for this fun day of digging in the dirt below!