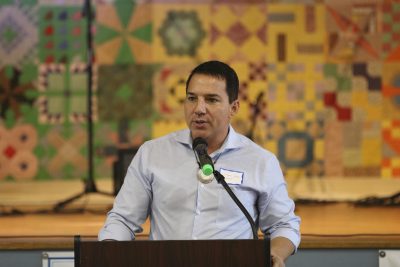 By Scott McKie, B.P.
September 24, 2018
COWEE – Panels featuring Cherokee history of the Cowee Mound and area were unveiled during a ceremony near the site on the morning of Saturday, Sept. 22.  Part of the Cherokee Cultural Corridor, the unveiling and cultural kiosks were the result of a partnership between the Nikwasi Initiative, the Mainspring Conservation Trust, the Eastern Band of Cherokee Indians and entities such as the Cherokee Preservation Foundation, and the Cowee School Arts & Heritage Center – groups that came together collectively as Mountain Partners. 
"It truly is a great day today," said Principal Chief Richard G. Sneed.  "We have had so many great partners in this project – folks with vision for the project of a Cultural Corridor.  For thousands of years, prior to European contact, our ancestors dwelled here, and they had a rich culture, a vibrant culture with a complex religious and spiritual system, complex political systems, and complex economic and trade systems." 
Read the entire article here.