Get Up Close with Birds on the Valley River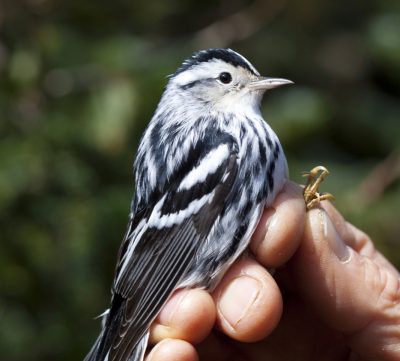 The public is invited to participate in "biomonitoring" surveys of breeding birds this summer, at properties Mainspring Conservation Trust has conserved.
Scheduled events at the Welch Farm in Cherokee County include June 27, July 8, 22, 30, and August 8, from 7:00 am to 11:00 am (weather permitting).
In Macon County, events at Cowee Mound are scheduled for June 25, July 5, 14, 23, and August 2. These also run from 7:00 am to 11:00 am.
Children and adults of all ages can volunteer with nationally-recognized research work that monitors the health and reproduction of birds. Participants will provide hands-on assistance in all aspects of the survey work under the training and supervision from Southern Appalachian Raptor Research (SARR) field biologists.
The bird monitoring work is based on the Monitoring Avian Productivity and Survivorship (MAPS) protocol. MAPS is a nationwide program coordinated by the Institute for Bird Populations in Point Reyes, CA. The MAPS program includes a continent-wide network of over 500 mist netting stations and is designed to monitor productivity, survivorship, and population trends of breeding birds throughout North America. Analyses of the resulting banding data provide critical information relating to the ecology, conservation, and management of North American landbird populations, and the factors responsible for changes in their populations.
This is the third year that SARR has been conducting the bird monitoring surveys in Cherokee County, and the seventh year at sites in Macon County.
This program is a result of a partnership between Mainspring, SARR, and EBCI's Natural Resources program. The program is sponsored by the Cherokee Preservation Foundation's Revitalization of Traditional Cherokee Artisan Resources (RTCAR) initiative, the Eastern Band of Cherokee Indians, the U.S. Fish and Wildlife Service, and the Coweeta Long Term Ecological Research program.
The survey events may be rescheduled due to weather. Click here for an upt-to-date calendar of survey dates. For more information, please contact Mark Hopey.