Ever since Duke Energy gifted Queen Branch to Mainspring in 2004, staff have dreamed of building an accessible trail on the property for all visitors, including for those who use wheelchairs or have limited mobility. The 16-acre floodplain parcel, adjacent to Needmore Game Lands, is perfect for enjoying an afternoon in nature — featuring open meadows that extend into views of the Little Tennessee River.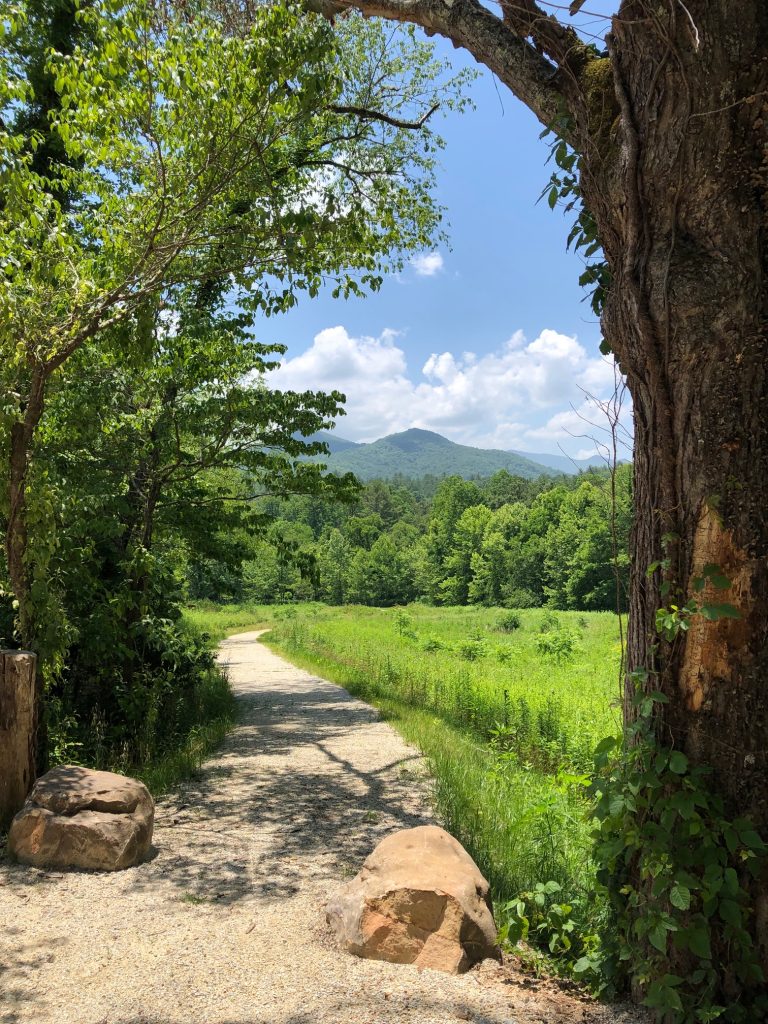 However, ADA-compliant trails are expensive to create, and grants that fully pay for this type of project are very competitive. So, for years, the dream has remained just that: a dream — until Sylvia Walbolt heard about the idea.
"I had been a contributor to Mainspring since it was Land Trust for the Little Tennessee," Walbolt says. "When my mom passed, I wanted to do something permanent in her memory. Mainspring brought [this project] to my attention, and I thought it was the perfect memorial for her. She always loved the river and would tell stories about rowing across it to get to school."
Walbolt, an attorney who lives in Tampa, Florida, gifted Mainspring the funds needed to create the 1/3-mile-long trail in memory of her mother, Sylvia Shaver Hardaway, who passed away in 2020 at age 102. Walbolt's contribution, along with a grant from the Cannon Foundation, allowed Mainspring to budget the remainder of funds needed to move forward with the $70,000 project.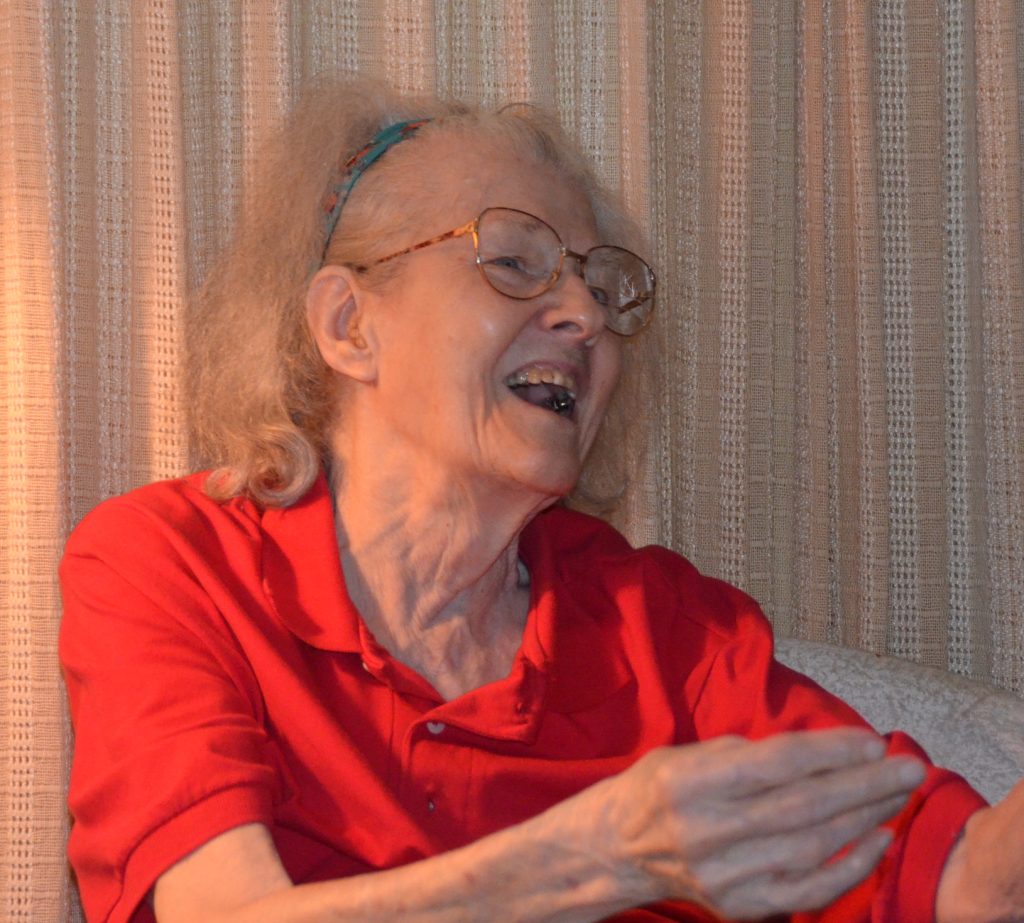 "In 2018, the late landscape architect Jack Patton designed what we're now calling the Hardaway Trail, and he developed it so that the surface, slope, width and viewing platforms would all be ADA compliant," says Ben Laseter, Mainspring deputy director. 
Patton's plans called for a trail surface made up of sand and gravel, a specific mixture called trail surface aggregate. To ensure accessibility for all, the aggregate is installed at a precise thickness — then mechanically compacted into a hard surface.
"Only a small part of the property could be easily accessed before," explains Kelder Monar, Mainspring stewardship manager. "The relatively level terrain and proximity to the river made the property a natural fit for an accessible trail, and we can also link the trail to Needmore Game Lands so people with disabilities can hunt if they prefer. Connecting people with the natural resources in our area is a core part of Mainspring's mission, and this trail gives us a chance to connect with new user groups who might otherwise not have a place to explore."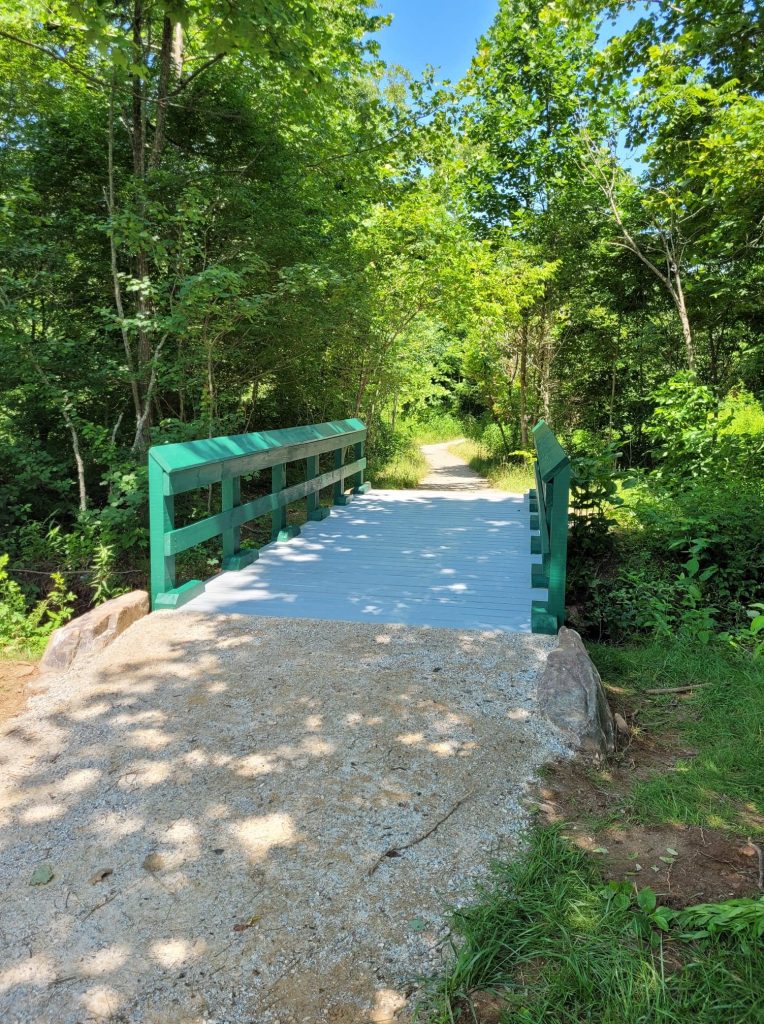 Walbolt adds: "I love the work that Mainspring does. Though I no longer own property in North Carolina, I feel strongly that this beautiful land needs to be preserved as much as possible, and that we need to have places where folks can bring their kids and be present in the wild, safely and with pleasure. It makes me so happy to have this trail named for my mother. She was a remarkable lady, so it makes sense that a remarkable trail will be available for all to use and enjoy."
Special thanks to Mainspring Emeritus Board Member Richard Clark and current Board Member Ed Haight for their expert advice and time, as well as all of the Mainspring volunteers who assisted in numerous work days.