Before 18-year-old Logan Mossbarger began college at North Carolina State University in Raleigh in 2017, he created a legacy in his hometown of Franklin—a hiking trail at Mainspring's 64-acre Gibson Bottoms property.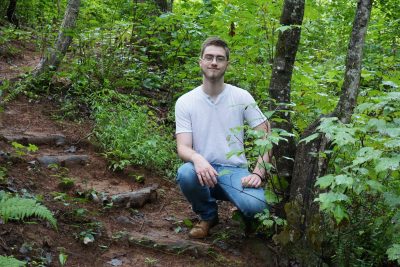 Logan connected with Mainspring to complete his senior project, a requirement for twelfth-graders at Franklin High School.  
With the help of volunteer John Garrison, Logan created a plan to build a hiking trail—a project Mainspring had been interested in doing for some time. Logan's plan included the design, layout, and construction of the trail.  
Initially assuming it would be a simple project, Logan was surprised at the complexities he encountered. "There is a lot more that goes into making a hiking trail than some people may think. It's not just taking out vegetation and moving some leaves; there is also the removal of a layer of soil where most plants grow, always keeping the slope in mind, and how easy the trail is to hike." 
Garrison said Mossbarger learned a lot. "I think he was able to see the complexity of a land management project. There is no substitute for taking a project from inception through planning, compliance, organization, and on-the-ground work. But Logan had solid ideas, was receptive to other thoughts, and has an outstanding work ethic. It was a pleasure working with him." 
Logan and John were able to fully complete 700 feet of the 1.7-mile trail before his senior project ended in May 2017. In early July, 21 students from Haywood Community College's Fish and Wildlife Management Technology program, under the guidance of instructor Shannon Rabby, contributed a half-day of service to the construction of the trail. The students cleared downed logs and ground vegetation and raked away leaves and soil duff on over 2,100 feet of trail.  
More work is needed to complete the project, but, once it's finished, Logan hopes it will be used for many years. "It has some amazing views and the forest changes so much while you hike through it. This project was an incredible experience, and I'm proud to have worked on something that can get people outside and connected to where we live. It will be a great place to visit when I'm back home."