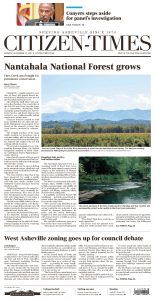 By Karen Chavez
November 27, 2017
FRANKLIN – A highly prized 50-acre slice of forest will remain forever untouched as it officially becomes part of the Nantahala National Forest.
The relatively small Fires Creek parcel on the Cherokee-Clay county line of the 500,000-acre forest was the object of a contentious, decadelong battle among the private landowners, the U.S. Forest Service and forest visitors who wanted to see a wildernesslike setting remain in its natural state.
Everyone involved seemed to walk away satisfied Nov. 20 when the nonprofit Mainspring Conservation Trust closed on the property to keep Fires Creek forever preserved in conservation.
Click here to read the rest of the story on the ACT website.