November 28, 2017 – Almost 16 acres in western Macon County will provide better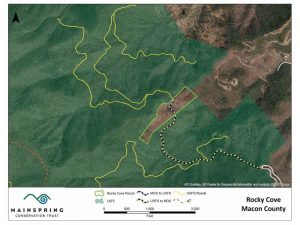 access through U.S. Forest Service land after Mainspring Conservation Trust recently acquired the property.
Known as "Rocky Cove," the property is close to and in the viewshed of hikers on the Appalachian Trail. Mainspring will maintain the property until the Forest Service is able to acquire the parcel from the regional nonprofit.
"Rocky Cove is an example of one of our highest priorities to be added to the National Forest," Mike Wilkins, Nantahala District Ranger says. "It is surrounded by the National Forest on three sides and is located almost a mile down a gated Forest Service road that is managed as a linear wildlife opening."
Mainspring Land Conservation Manager Jordan Smith says this purchase helps connect Forest Service lands to each other, which has benefits to the public outside of access. "We're happy to work with one of our biggest partners in conservation to protect important tracts such as Rocky Cove.  Inholdings in U.S. Forest Service lands often create issues when it comes to land management activities or during disasters such as the 2016 wildfires."