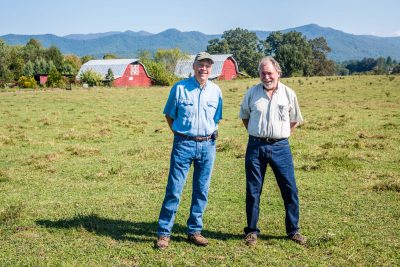 January 30, 2018 – When Peggy Tiger passed away in 2012 at the age of 84, the lifelong Clay County resident had a particular request for her sons: that their family farm, the only farm within Hayesville city limits, be placed in a conservation easement with Mainspring Conservation Trust.
Monday, January 29, her request was fulfilled, and 30 acres is now forever protected.
Owned by a member of the Tiger family since 1938, the land is bordered by 1,300 feet of the Hiwassee River. It is believed to have been part of the Cherokee Town-site of Quanassee, one of the major trading hubs between the British and Cherokee from the early 1700s to 1725. Two of the four main soil types found on the property are classified as prime farmland soils, while the other two are classified as being of local importance.
Jim Tiger is glad to see his mother's request finalized. "Mom's wishes were to preserve the property as a farm and prevent it from being divided and developed. She had looked at conserving it in a farm easement and we are seeing that her intentions are carried out. Mainspring was her choice and, after talking with other conservation trusts, it was our choice as well. They are great folks to deal with and have been a huge help in making a complicated decision easier."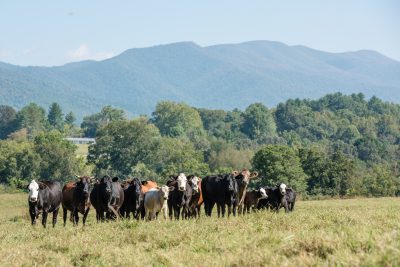 Sara Posey, Mainspring's Hiwassee Programs Manager, says this project embodies what the regional land trust's work is all about. "This picturesque farm showcases our mission in so many ways: conserving a working farm that contains prime farm soil, river frontage, cultural significance, and scenic view shed. It's been great working with landowners who have employed best management practices such as fencing livestock out of surface water and allowing woody vegetation to shade their streams. We're proud of this project, and so happy Mrs. Tiger's farm will be conserved forever."